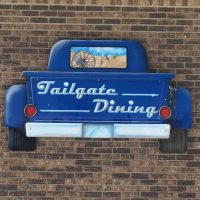 A dining institution in Huron has re-opened under new ownership.
The Tailgate officially opened its doors to the public again in March.
Scott Gaulke, co-owner of the restaurant along with Lisa French, says longtime patrons of the Tailgate will find old favorites are still on the menu.
Gaulke says the reaction from the public has been overwhelming.
Gaulke says changes include a remodeled kitchen.
The Tailgate is open 11am-10pm Mon.-Thurs. and 11am-11pm Fri-Sat. Gaulke says there is a dessert and coffee special from 2-4pm. For reservations call 554-0500.

Tags: