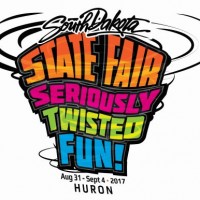 The South Dakota State Fair, a division of the South Dakota Department of Agriculture, has announced the final acts added to this year's Grandstand line-up.
Country star Justin Moore with special guest Ned LeDoux will take the stage Sunday night, Sept. 3rd at 7pm.
Moore's hits include Small Town USA, You Look Like I Need a Drink, Lettin' the Night Roll and If Heaven Wasn't So Far Away.
LeDoux is the son of the late country and rodeo legend Chris LeDoux.
Candi Briley, with the South Dakota State Fair, says the addition of Moore and LeDoux caps of a solid trio of Grandstand concerts
Ticket presale for backrest holders will begin June 19, with Friends of the Fair ticket sales beginning June 22. Tickets go on sale for the general public beginning June 26.

The 2017 State Fair runs from Thursday Aug. 31 through Monday Sept. 4th. For more information bist www.sdstatefair.com.

 

Tags: