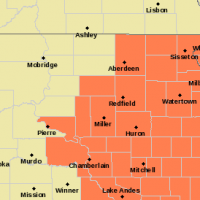 A heat advisory is in effect today for parts of central South Dakota, including Beadle County. 
Weather Eye meteorologist Laura Lockwood says the good news is the advisory is only for today.
The high temperatures yesterday and today were both forecast to be around 100 degrees, so why the heat advisory today but not yesterday?
Lockwood says the dew point is related to humidity, but they aren't the same thing.
(Dakota Radio Group)