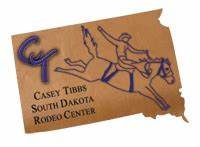 The 29th Annual Casey Tibbs Foundation Tribute Dinner will be held Saturday night at the Casey Tibbs Rodeo Center in Fort Pierre.
Director Cindy Bahe says the annual fundraiser celebrates rodeo in South Dakota.
Bahe says photos and biographies of this year's six nominee's will be added to the permanent "Wall of Fame" located in the Rodeo Center.
Bahe says the event is sold out.
The Casey Tibbs Foundation will be honoring the following nominees:
Jake Rinehart of Highmore
Kristi Lensegrav-Birkeland of Dupree
Steve Mowry of Presho
Raymond W. Sutton Sr. of Gettysburg
Glen & Yvonne Hollenbeck of Clearfield
Frenchmans Guy owned by Bill and Deb Myers of St. Onge
(Dakota Radio Group)