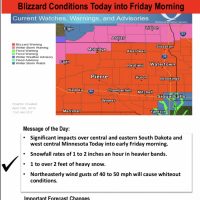 Huron has experienced snow, sleet and thunder snow this morning as the area braces for the approach of a major winter storm.
Lance Vandenboogart with the National Weather Service in Sioux Falls says the latest update is still calling for massive amounts of snow for the Huron area.
Vandenboogart says it will heavy, wet snow.
He says travel will become more hazardous, if not impossible, beginning this evening.
A winter weather advisory continues until 7 pm tonight to be replaced by a blizzard warning through 7 am Friday morning.

Tags: