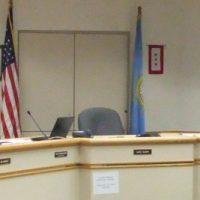 The Huron City Commission will hold it's regular weekly tonight.
Items on the agenda include:
Public hearing to consider transferring a 2019-2020 Retail on-off sale malt beverage and South Dakota Farm wine license from Yessicas Restaurant, Yessica Argueta Maldonado, 334 Dakota Avenue South, to Los Compadres, Juan Guzman Gutierrez and Santiago Montoya Cervantes, 334 Dakota Avenue South.
Consider agreement with Banner Associates, Inc. for a water and wastewater rate study and authorize the Mayor to sign.
Consider construction change order by Hydro-Klean LLC for sewer main lining for an increase of 10 working days. Construction was delayed due to weather and due to an emergency manhole replacement at 3rd Street and Lincoln Avenue. Work was suspended on July 15, 2019 until the City could complete the emergency manhole replacement and was resumed on August 8, 2019.
Tonight's meeting gets underway.

Tags: