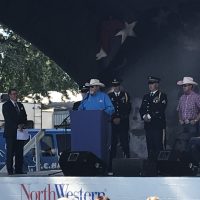 Governor Kristi Noem was on hand for the Salute to Veteran's program at the Northwestern Energy Freedom Stage this morning.
During the program, local businessman and Vietnam veteran Red Wilk received the Chet Sorenson Veteran of the Year Award. Each year, the South Dakota Veteran's Council presents the award to a South Dakota veteran who has shown outstanding dedication to the service of other veterans.
Since 2003, Wilk and his family have honored over a hundred veterans with the American Hero Award which is presented during the Red Wilk Construction Tuff Hedeman Bull Bash.
Wilk says meeting veterans from all over the state has changed his life.
He  calls the American Hero Award is a team effort.
Governor Noem says the award is something the fair sorely needed.
The second night of the Red Wilk Construction Tuff Hedeman Bull Bash begins at 8 pm tonight at the Grandstand.

Tags: