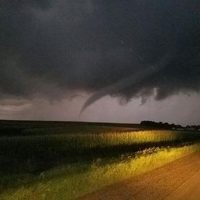 There was a severe weather outbreak across northeast South Dakota last night, and it included a handful of reports of tornadoes.
National Weather Service forecaster Ryan Leake….
The farm that was damaged is located four miles north of Bristol.
He says the ingredients were in place for severe weather to develop.
Leake says September is not the optimal time for tornado development in South Dakota—but it does happen….
Leake says an assessment team from the Weather Service will be in Day County today to get a look at the damage first hand.

(KWAT)

Tags: