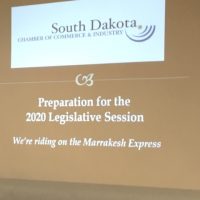 South Dakota voters may have a chance to decide on a couple of marijuana related issues next November.
Dave Owen, President of the State Chamber of Commerce and Industry, says there are differences between the two.
Owen, who is on his pre-legislative tour of Chambers of Commerce, says there could be some interesting debate.
Owen says attitudes about marijuana seem to be changing.
Owen says it will take several weeks for the Secretary of States Office to decide if there are enough valid petition signatures to put either issue on the ballot.

(WNAX)

Tags: