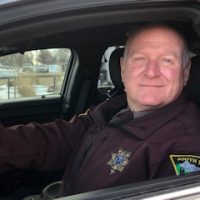 A long time Huron resident will be retiring this week after 17 years and 9 months as a trooper with the South Dakota Highway Patrol all with the Huron squad. Growing up in Pennsylvania and serving in the Army, Mark Chamberlain worked in 911 dispatch with the Huron Police Department before becoming a trooper with the highway patrol. He said so much has changed with technology that they use to do their job.
Chamberlain served in the Army from 1986 to 1995. With the SDHP he has been an instructor in firearms, defensive tactics, Taser usage, Mobile Field Force (AKA riot control) and was a Field Training Officer for new troopers in the academy. He talks about how well the South Dakota public shows their support for the patrol.
With the workload of a trooper involving reports associated with enforcing the law, Chamberlain highlight the most rewarding and worst part of the job.
He was asked what other than speed draws his attention and results in a traffic stop.
The last day on the road for Trooper Mark Chamberlain will be January 17. A retirement party will be held at the Huron Department of Transportation building, 901 Dakota Ave North on Wednesday January 15 from 1-3 pm It is open to the public, enter through the north door with elevator access.

Tags: