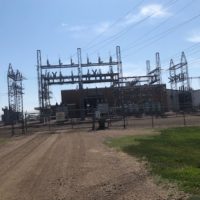 Northwestern Energy has announced plans for an $84 million, 58 megawatt natural gas fired generation plant.  It will replace existing units that were installed in the early 1960's.  Tom Glanzer community relations manager with Northwestern Energy said the plant will be build in the existing location.
The new engines are manufactured by Caterpillar.  Northwestern Energy says that they are known for  competitively priced equipment with a proven performance history that will meet the energy needs of South Dakota customers for decades. The reciprocating internal combustion engine technology will replace the existing natural gas/diesel fuel fired turbines currently used in Huron.
Glanzer said that customers of Northwestern Energy should have no service issues during construction that could take 14 months.
He said the new turbines are becoming standard updates for all of Northwestern Energy updates with a flexible capacity resource that will provide energy as needed 24/7.
The project is set to begin in July.  With Covid-19 measures continuing, Huron business community should be aware that there will be additional workers of fluctuating numbers during the construction.    Fagen, Inc of Granite Falls, Minnesota is the Engineering contractor.

Tags: