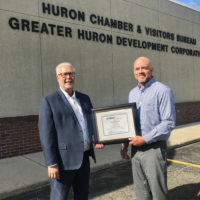 Greater Huron Development Center announced that Vantage Business Park has been certified as a Tier 1 Light Industrial site through the Governor's Office of Economic Development's Certified Site Program.  The site is owned by GHDC and encompasses 125 acres on the north east side of Huron at the intersection of US 14 and Custer Avenue.  Ted Haeder with GHDC talks about what a Tier 1 site is.
South Dakota's Certified Site Program offer expanding businesses prequalified sites that are ready for development.  Haeder says what type of businesses would fit that location.
He said the sight is aided greatly along US 14 and Custer Avenue, along with other advantages.
Haeder explained how the cooperation with the Governors Office of Economic Development assisted with the site certification.
Scott Amundson with GOED presented Haeder with the Certified Site Certificate.

Tags: