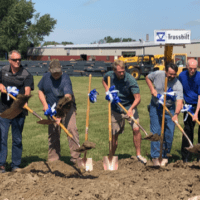 Trussbillt a major employer in Huron and a manufacturing leader in the security detention infrastucture industry broke ground yesterday on its 101,000 square foot expansion.  Trussbilt is located just off US 14 on Lincoln Avenue.  Mark Harvey COO with Trussbilt talks about the history of the company.
Trussbilt certified detention equipment products are found in justice centers, courthouses, jails, prisons and detention centers around the world.  A Trussbilt proprietary product, Trusswall was developed in 1999.  Harvey said the expansion is for an an improvement and development on that Trusswall line.
Trussbilt is part of a three company consortium consisting of American Steel Products of Swainsboro, Georgia and Souther Folger Detention Equipment Company out of San Antonio, Texas.  Harvey talks about the space that will be added.
The expansion when it is complete will bring the hiring of 30 to 35 new employees which will supplement the current workforce of 105.  Harvey expects the facility to be complete by December 31. 2020.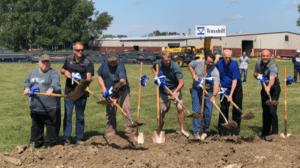 Pictured left to right: Corwyn Glanzer, Mark Harvey- COO, Bill Reno, Chad Schelhaas, LaVerne Wagner, Huron Mayor Gary Harrington  and GHDC CEO Ted Haeder.  Workers picured are original Trussbilt workers.  Two others not pictured at Eric Beckwith and John Schenfelder.

Tags: