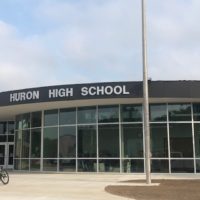 Huron School District had some substantial renovations that mostly wrapped up one week prior to the start of the school year.  The total renovation which includes the Huron Middle School and Huron Vo Tech building could top out at 4.8 million dollars with the new entry way and numerous updates intended to prepare HHS for student capacity of 1000 students in the near future.  Huron High School was first used in the current location in 1967.  During excavation to prepare for the new entrance and principals office construction crews discovered a piece of HHS history.  Huron School Board member David Wheeler said what they found.
Wheeler and fellow school board member Craig Lee are on the time capsule committee and Wheeler said the contents of the time capsule are not known
Becky Freeman, one of the class of 1968 graduates said the class was involved in the time capsule contents but specific contents are not known.
Freeman said the Huron School Board time capsule committee was in contact with the class to organize a time to open the capsule.  She talks about when it will be revealed and what might be inside.
She said it unique to have an opportunity to see the contents of a time capsule that did not have a specific end date.
She said a local high school band the Torries may have something in the time capsule and talks about what other music may be inside.
53 years of time and still a lot of connections between the protesting and rioting taking place then and today.  That time capsule will be opened September 14 at the Huron High School auditorium during the Huron School Board meeting that begins at 5:30.  Members of the public and any Huron High School Graduates are invited to attend and enjoy a piece of history from Huron High School.

Tags: