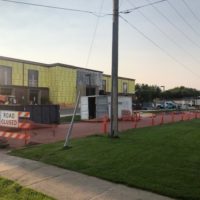 HRMC Physicians clinic addition continues.  When completed next year the square footage will double with additional physician occupying the second level.  In the lead up to construction in the spring and during Oregon Avenue from 5th to 6th was approved by the Huron City Commission for use as a set up area for equipment and supplies.  HRMC CEO Erick Larson talks about what led up to that decision.
Oregon Avenue was proposed to be abandoned years ago when St Martins School occupied that location.  Larson talks about what they had in mind for the abandonment of Oregon Avenue.
Larson said they have limited contact with residents in that area.
The section proposed to be abandoned is from 5th to 6th street on Oregon ave.  A public hearing is set for Monday September 13th during the Huron City Commission meeting.  All residents are invited to attend that public hearing.

Tags: