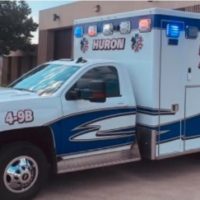 If you have ever had an interest in giving back to the community with a focus on health care an opportunity comes up on December 7th at 7pm at the north fire station in Huron with an Emergency Medical Technician information session.  Those attending will learn the steps needed to become an EMT.  Mark Johnson and Jeremy James with Huron Emergency Medical services talk about the type of background they are looking for.
Plans are to start the med tech training in January with completion by May.  Johnson said it is available to anyone who has an interest.
The training is held in the evenings with days to be determined.
The informational session is Tuesday December 7th at 7pm at the north fire station in Huron, 1357 Dakota avenue north.  For information and if interested in attending call the Huron Ambulance Service at 605-352-2600.

Tags: